On Thursday 16th March 2017 the Golden Lion Children's Trust invited a group of teenagers from Chailey Heritage Foundation to enjoy a flight on the Coca Cola London Eye.
This project was possible thanks to the generous support of Merlin's Magic Wand for their donation of tickets; to friends at London Fire Brigade for their advice re parking; and to MMW staff at the Coca Cola London Eye courteously treating the group like VIPS throughout the visit
.
First of all the group watched the London Eye 4D Experience – billed as "the first live action 4D film production in the UK, containing the first ever 3D photography over London".  So exciting.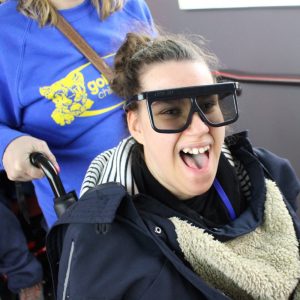 The 4 minute cinema show include lights; wind; sound; snow; water; bubbles. The GLCT 'guests' (all young teenagers confined to wheelchairs) thoroughly enjoyed this fun, sensory experience especially the music and fireworks at the end of the film.
Moving into glorious spring sunshine the group were next escorted to three separate pods, and the chance to look over our wonderful capital city.
Picnic near the Thames was followed by a walk to London Fire Brigade HQ for a very quick look at some fire engines, before heading back to school.